Something a little different for you this week!  Last year around this time I posted some pictures of vintage children's Christmas books that I have at home. I love children's literature and feel that is so important- and I also love vintage children's literature!  I have a collection at home of my favourites.  My number one favourite author-illustrator from my childhood is Gyo Fujikawa.  I had forgotten all about her books until one day I saw "Oh What a Busy Day" and I was immediately transported back to childhood.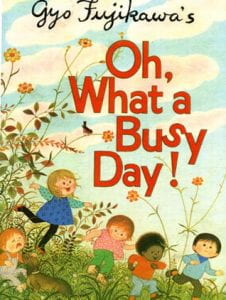 Gyo captured childhood so well in her writing and illustrations and lovingly depicted children from all cultures playing together, at a time when that was not commonly featured.  You can read about her amazing life in this article from The New Yorker.  It includes anecdotes about when her family was in an internment camp and when she worked for Disney.  https://www.newyorker.com/books/page-turner/how-gyo-fujikawa-drew-freedom-in-childrens-books
There is even a fairly new book about Fujikawa's life, titled "It Began with a Page-How Gyo Fujikawa Drew the Way."  You will love reading these books with your children, they are really special!
The awesome thing about these vintage books is you don't have to hunt them down- they are easy to find as the re-prints are available at Amazon or your local bookstore!
I think it is important to show our own kids the books that we loved when we were young! Such treasures!