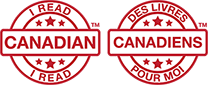 Is your family ready for I READ CANADIAN DAY?  We will be celebrating this as our AR Term 2 Celebration on Friday Feb. 26!  This will involve:
outdoor events- bonfires, snacks, and snow sculpture competitions
indoor events – reading books about Canada or by Canadian authors,  Canadian trivia and virtual field trips
and THEMED DRESS for the day!  You and your children can start planning what they will wear that day to fit the Canadian theme.  They can wear red and white Canadian colours, or dress as a famous Canadian, dress as a Canadian author, etc.  I can't wait to see what everyone comes up with!
This week's author focus is on Canadian author/illustrator Elise Gravel.  I just love her hilarious books and her amazing artwork!
The entire month of February is Library Lover's Month!  The Children's Library Lady has an amazing list of library quotes.  Here are a couple of my favourites!
childrenslibrarylady.com
Here are some great lists from The Children's Library Lady and Read Brightly – books about libraries and reading!
Libraries Gone Wild! 10 Imaginative Picture Books About Libraries
http://childrenslibrarylady.com/books-about-libraries/?utm_source=newsletter&utm_medium=email&utm_campaign=library_lovers_picture_books&utm_term=2021-02-15
I'll give an update next week about how our I Read Canadian Day went!  Have a great week HHCS!