I can't believe it is the last week of school and my last blog post for the school year!  I wanted to share with you some helpful ideas for getting your kids engaged in summer reading.  Check out these articles for parents:
20 Relaxing Happy Places for Kids to Read this Summer
Using Summer Fun to Build Background Knowledge
Start With a Book – Books and Activities for Summer Reading and Learning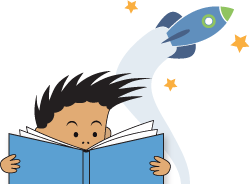 Classroom Read-Alouds and Activities to Inspire Screen-Free Summer Adventures
I hope to see many of you at the car parade at HHCS on the 25th!  On that day, jumbo freezies for all, as well as McDonald's ice cream certificates for those who met their Term 3 AR goal will be handed out.  Those who participated in the Poetry for Popsicles challenge will receive their prize that day as well.  Finally, the SUMMER READING CHALLENGE will be distributed in print form in the learning report envelopes, or you can also access the digital version here.
I am starting a new initiative where students who complete at least one of the Summer Reading Challenge options and submit it to me in September, will receive an HHCS seal for their certificate in June.  (in the same way that we give seals for leadership teams, sports teams, etc.)
If you want to use the digital format of the Summer Reading Challenge, please make a copy of the presentation for yourself and rename it with the name of the student when you submit it in September- e.g. "Summer Reading Challenge- Bob Brown" or something that makes it easily identifiable for me. And if you want to use the paper version, simply have your child bring it to the library in September, or just give it to their homeroom teacher to pass along to me.  (Remember as stated above, will come home in the learning report envelope.)
If you have any issues managing this or need help this summer with book recommendations then you can email me at l.baillargeon@hh-cs.org.
I hope everyone has a great last week of school! I will miss all the students and I wish you all a happy, blessed, and safe summer.  I can't wait to see you all in September.